Kartridge Price - We'll gladly give you your Kartridge price!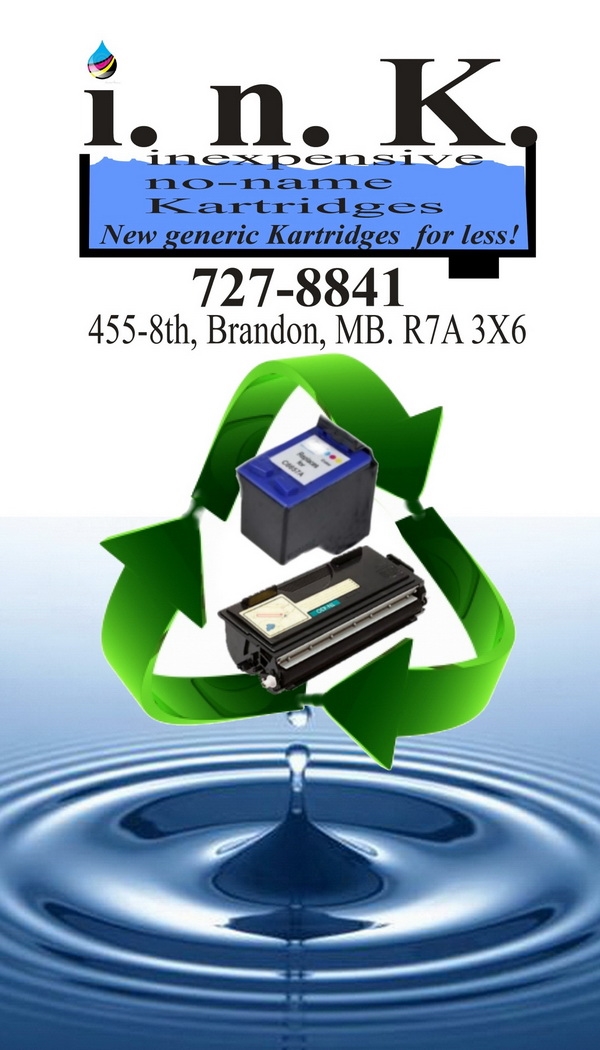 Get

Kartridge
Ka$h
We encourage
recycling..
We are the only
company to reward customers for
recycling!

Empty cartridge

Market price=
INKJETS
Now $2 off
all empty inkjet
kartridges!
(1 cartridge per item purchased)
Toners
Now $5 off

all empty toners
Recycle & $ave
RETURN ANY
EMPTY
ink/toner kartridge
If you have more than 1 we'll
add
them to your future orders.

______________________

Business Owners:
Save on your office budget!
We supply Business
BLACK & COLOR Toners
& inkjet Cartridges

Available for:
HP,

BROTHER,
DELL,

LEXMARK
SAMSUNG,

CANON

& MANY
OTHERS
Free

delivery
to your office
in

Brandon
New INK text #
204-818-3636
TEXT ME ANYTIME TO INQUIRE AS TO WHAT CARTRIDGE YOU NEED...
Weekday Hours
1 pm - 5pm
Other times by appointment
Available by e-mail/TEXT anytime.
ink.ken@gmail.com
==============================
JANUARY
Epson,- (#T048 to T200)
Brother lc51 to 201
Only $8.99 ea
( when any two or more
are purchased)
Brother TN. 450
Only 2499
(Stapler store price over $90.00)
(
Note- Kartridge Kash
Ibnfor empties applied only to regular price not sale price colours.
============================
"Kartridge Kash"
Specials:
Recycle your empties & save!
We encourage recycling & reward you!
~INKJETS~
get

$2

off
when old cartridge returned!
~ Toners ~
get

$5

off
when old cartridge returned!
( mention website price to qualify)
1 Kartridge Kash return per per item purchased
Sorry...does not apply to on sale items
(Max. of $10 applied per purchase)
~ Full Set Discounts ~
If purchasing a full set of 4 or more cartridges we will take $15 off the total to provide even better savings!
(The best value discount will always be
applied at purchase!)
(Empty Returns will be carded for future us!
November Special
Buy 1 black at reg price & get colours
get the colours at 7.99
~Brother~
"Selling my brothers for $5"
promo
(No I'm not actually selling my brother)
All instock Brother inkjet cartridges
only $5 ea.
$5 promo Expires Oct 31/18
~Canon~
Canon 225/226 $14.20 each Now $9.99
~Epson~
Epson Cartridges T069 to T200
all Only $9.99
~HP~
HP92 Reg $19.62 NOW $9.99
HP564xl was $15.20 Now $9.99
We have hundreds of cartridges in stock...
Call us for other prices!
Sorry Kartridge Kash for returned empties can't be applied to sale items or full set discount but we'll card them for future credit.
==================================
Psssst...
You don't need to bring in your empties to purchase a cartridge.
You get a discount if you do but it not necessary.

We don't refill so we have ready to go cartridges on our shelves to save you time & money.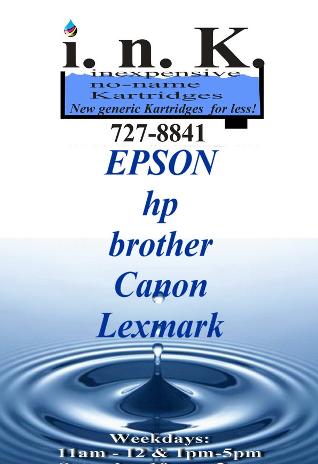 Parking available
in back & front!
~ Shop local & $ave ~
=============================
We don't refill but we'll keep these out of the landfiill!
===========================
All Toner & Inkjet cartridges
available
Try us out !
We're for far less than the
'Stapler Store"
=======
==========================
Psssst...You don't need to bring
in your empties to purchase
a cartridge.

You get a discount if you do but it not necessary.

We don't refill so we have ready to go cartridges on our shelves to save you time & money.
=========================
Sorry no Kartridge Kash on
sale priced items,
but we can card your
empties for future credit.
------------------------
Recycle your empties!
Current
Kartridge Ka$h
(recycling encouragement)
IS
Inkjet cartridge =$2 off
Toner cartridge = $10 off
Yes we give you money off your order to encourage recycling!

Inkjet Cartridges

&

Toners too!


Laser Toners

& Color laser

toner cartridges

Available !


Have you noticed....The "stapler store" cartridge prices have jumped this year!
Get a better
price here !
<<<<<<<<(Fill Kartridge Price box for current price
We're usually 1/2 their price! Check us out.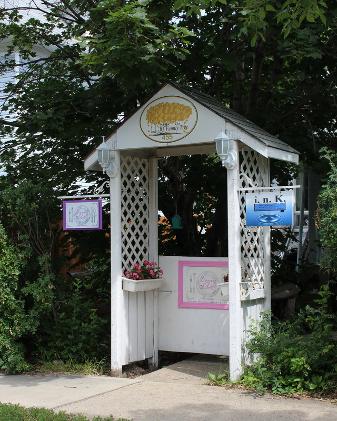 Hours :
Monday - Friday
1pm - 5pm
Saturday :
(by appointment)
==============================
We're in the back building...
(park in front or in the back parking area )
All other times:
we are available
by appointment!
Your local

Brandon source for
LESS EXPENSIVE

ink & toner
Kartridges.
We're generally 1/2 the

price of the

"stapler" stores
prices!
A great way to save

& shop local!

Home Printer Kartridges
available for ALL printers:
HP LEXMARK
EPSON CANON
BROTHER SAMSUNG
Most of our Cartridges

are under $20!
We sell

pre-packaged

printer

compatable
ink Kartridges.
Why Buy over priced

Name-Brand
cartridges from the bigbox
stores anymore?
(we're usually 1/2 the price
of the "stapler" stores prices)

You now have a Brandon local alternative source!
Rumor Dispelled!
Sorry, we DON'T

re-fill ANY

cartridges. It's too
messy & unreliable.
Our entire line of Kartridges are NEW -

Pre-packaged -
Factory Filled
ready-to-go
KARTRIDGES

for usually 1/2
less than

Brand
-name prices
at the

'stapler'

stores

Call or e-mail

us & see

how much you

can save!
RE
INK & The Family Tree
455-8th street (Look for our white archway!)
204-727-8841 or 1-866-727-8841
We have hundreds of the most common kartridges in stock

but can order less common

or older cartridges too.
Call to get our regular price & you'll see . If its not on the shelf it'll be

worth the wait.

(un-common cartridges usually available in 4 days or less.)

Due to the HUNDREDS & hundreds of

printers & inks we can only stock the most popular

Kartridges.

But we likely have the Kartridge you need!
Tired of spending more to fill your printer than your car?

Tired of being forced to buy name-brand because there are no options?

Tired of paying more for your ink than you paid for the printer?
We are your less expensive Brandon ink option!
Our Generic INK Kartridges are identical to the original &
can $ave you $$.
Why are name brand cartridges so expensive?
To pay for the low priced "do everything printer" (scanner, fax, print) that you purcahsed for $40 they have to make it up somehow, so they OVERCHARGE for their cartridges. (They expect you to purchase 6 ink sets a year~therefore you end up spending $400-600/ year for ink!!! for a $40 printer? We can save you $
How can I save $?
By buying our generic Kartridges you are saving money for yourself. Our NEW kartridges are pre-filled & distributed from BC. Our Kartridges allow you to save $5 to $30 per kartridge compared to name brand prices.
Call our office with your printer model or cartridge number & we'll give you a price that will shock you. Most of our Kartridges are under $20.Feel free to contact me directly if you want more info!
Guaranteed!
We will replace any kartridge if you have any problems with. Free right off the shelf! We've been using these kartridges for years without any problems. But we still will replace them without question.
Any other Discounts?
YES! take a look!
1) Buy a full set of cartridges( Black + Cyan, Magenta, Yellow Min. $30)
get a $5-$10 off full set discount
2) Recycle & get Kartridge Kash - $3 for each

empty returned inkjet cartridge & $5 off for any empty toners
(to a max of $10/purchase extras are logged & applied to future orders)
3)Out of town orders - Free mailing over $40 (only $15 if less than $40)